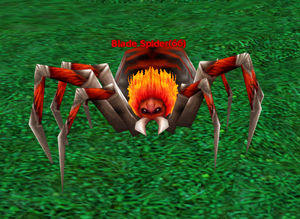 Lv 65-66.
Where can it be found?
Edit
In the area of (52,268).
What can it drop?
Edit
Topside (Food Material)
Brilliant Palace (Ring) / All Seeing (Amulet)
Fallen Phoenix (Hat) / Deathbringer Helmet
Lv. 3 Air Powder / Brown Paper
Lv. 5 Statice Capsule
Savage Blood / Glamour Case
Tremella Porridge
Seven Star (Two-Handed)
Velvety Scale Amulet
Shining Falchion
+4 Fur
+5 Soul Crystal
+6 Leather
Ad blocker interference detected!
Wikia is a free-to-use site that makes money from advertising. We have a modified experience for viewers using ad blockers

Wikia is not accessible if you've made further modifications. Remove the custom ad blocker rule(s) and the page will load as expected.