This page has been archived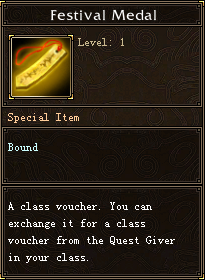 By obtaining Festival Medals from bosses (such as the Tyant in a raid) one can trade these for the class card at your class quest giver, who appears in your class base.
By trading with players belonging to other classes, one can collect all 9 class cards, also known as complimentary clips.
When all of these cards have been acquired, go to Chu-Keh, the Fortune Teller, at (194,180) in Lou Yang and choose to "Exchange for gift".
This can be done 6 times per day.
The minimum level requirement is level 25.
This even runs from February 10th - 24th.
The God of Fortune
Edit
Visit Master Zhao (161,154) in Da Li every day to recieve 20g.
Click him and choose "The God of Fortune" then "Recieve event reward".
Holy Dumplings
Edit
Tung Cho (128,212) in Su Zhou will give you 2 Holy Dumplings every day if you visit him.
One is bound to yourself, and another can only be used by other players.
Gifts can be recieved as an individual, a couple, as friends or as teacher and apprentice.
The dumplings restore HP, but one may find special gifts when eaten.
Must be above level 10.
Ends 3rd March.
To retrieve your Luxury Wedding Pack, go to Matchmaker (46,62) in Luo Yang.
This even runs from February 10th - 17th.
Visit Le Chi (178,95) and choose "Wedding Renewing".
During this event, players at Level 20 (or above) will need to seek out Love-Junior in Luo Yang (175,102) to receive the coveted "Cupid's Arrow".
Cupid's Arrow can be used a maximum of 3 times per day.
Submit poetry on the TLBB Forum between 5th and 14th February to be in with a chance to win TLBB Plush Toys.
4th - 14th February.
Proove you have friends on the forum with a screen shot of your friendship points above 200.
Visit here for instructions on how to recieve the rewards.
Ad blocker interference detected!
Wikia is a free-to-use site that makes money from advertising. We have a modified experience for viewers using ad blockers

Wikia is not accessible if you've made further modifications. Remove the custom ad blocker rule(s) and the page will load as expected.