This page has been archived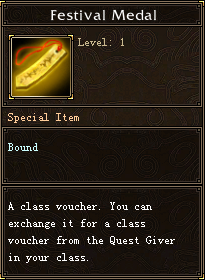 Festival trading cards are part of the Valentines Day Events.
Festival Medal
Edit
Festival Medals are obtainable as a drop from Bosses such as the Ancient Chess Soul, Red Toad and Tyants, the boss in raids.
Trade these with your class quest giver to recieve your class complimentary slip (Class Card).
Class Cards
Edit
One must have all of these in your inventory to be able to recieve the event rewards.
Trade with other players to recieve all the cards.
Requirements and Limits
Edit
Minimum level 25.
Rewards can be recieved a maximum of 6 times per day.
Event ends 24th February.
Once all the cards have been aquired, Vist Chu-Keh, the Fortune Teller, at (194,180) in Lou Yang and choose to "Exchange for gift".
Reward 1 - Santa Claus's bag: 5 slot back (replaces traveling bag)
Ad blocker interference detected!
Wikia is a free-to-use site that makes money from advertising. We have a modified experience for viewers using ad blockers

Wikia is not accessible if you've made further modifications. Remove the custom ad blocker rule(s) and the page will load as expected.